hi family! i just wrote up a post on our family blog and thought i'd repost it here for all to read. i love that we have this blog as a compilation of the whole family's lives! it's such a great way to keep in touch. we had such a wonderful time in utah visiting family and really missed those of you who were unable to come. we love all of you and think of you often!
here's our recap: warning, it's a bit lengthy
years old
we spent nine days in utah partying it up at a roper family reunion as well as half-of-the-mccoy-family reunion. only one trip to instacare was required and that wasn't until our last twelve hours in town so all in all i consider the trip a roaring success. we all know that traveling with kids is kind of like really fun torture. taking care of kids is a lot of work. taking care of kids at someone else's house is even more work. through trial and error i've learned two key factors that makes traveling with my minis much more fun:
1) limit it to a week, none of this two week business like in days of yore
and 2) take darek with me. two parents are always better than one.
and i suppose i can throw in a third helpful tip: have very low expectations
ie - roll with it and expect to be beat
a few summers ago when i was breaking my two rules and spending two weeks in utah with atticus and beckett but without darek and i was in the throws of sleepless, funless vactioning with little kids chaos, my sister-in-law (who i consider to be wise beyond her years and secretly wish i were lots and lots more like her) said to me that "traveling with little kids is really a labor of love" and it's so true. at this stage in life, as much as i love to travel to see family and friends and take a break from everyday life, it's pretty exhausting and not always what i remember family trips being like when i was a kid - but that's exactly the point. family trips as a kid, playing with cousins, staying up late, eating popsicles, endless summers, sleeping on the trampoline is magic. pure magic. and that's why we do it. during these years when our kids are too young to realize that traveling is really exhausting and instead just think it's party time from sun up to sun down is creating childhood magic. my most precious childhood memories are of visiting cousins, playing on my grandpa and grandma's farm, going to water parks and lagoon, eating cookies and getting lost in cousinland. nothing is better. and i want that for my kids, especially since we live so far from most of their cousins. and until i had kids i didn't realize that my parents were creating that magical world for me by enduring the weeks of packing and planning, hours of driving, nights of not-sleeping, too much fast food eating, and making major sacrifices just so i would have those memories that i would love forever.
it's a labor of love. so exhausting. and so worth it.
so thank you to our family for hosting us
thank you to darek for helping me
thank you to my kids for loving it
and thank you to my parents for teaching me how to create childhood magic for my minis
atticus and beckett really lucked out in the cousin department on the roper side - eight boys under the age of eight. that makes for some serious little boy play.
trucks and dirt and guns and sprinklers and swings and swords and superheros and snips and snails and puppy dog tails.
four and a half has been both a darling age and a challenging age for atticus
he's so smart and so interested in learning everything there is to learn. he asks the best questions and i can't believe how much he understands and remembers when i explain things to him or tell him stories. he sincerely loves his siblings and is a really good big brother. i've known since his birth that he has a kind and tender heart and i see that in how much he loves to cuddle kennedy and bring her toys and play with beck and (sometimes) share with him. he actually cries at sad parts of movies - ie - when curious george gets sent back to africa - because he's such a tender hearted little soul. he's also so busy and hyper and crazy and fun and laughs and laughs and laughs. and last week as we were leaving the gym he turned back to the little boy he had been playing with and yelled,
"bye bye friend! thanks for playing! i love you!"
*melt*
and of course it's also challenging because he understands so much
but lacks the emotional maturity that comes with age - which results in lots of whining and meltdowns
and he never, ever listens until i ask/tell him a 50th time
so i just remind myself that it's not supposed to be easy...
crazy atticus being crazy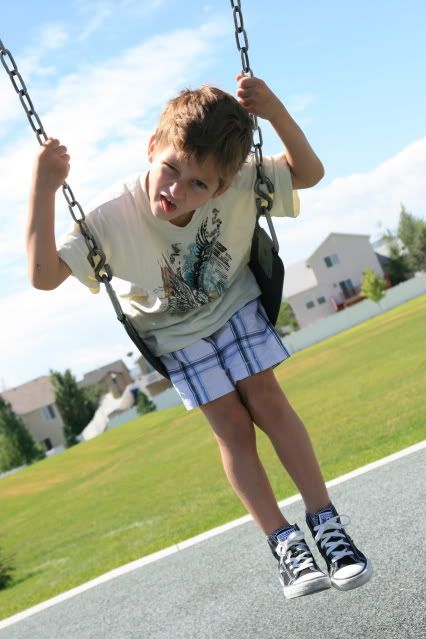 beckett is the charmer of all charmers
he's a total ham and definitely the family clown
at only two and half years old i can't believe how much he understands how funny he is
and how much he intentionally does stuff to make us laugh
and i've never seen a copy cat like beckett
he will literally watch atticus say/do something then execute the scene exactly
it makes me laugh and it also make me remind atticus 100 times a day to be a good example
until recently beckett hasn't been old enough to understand when he's being left out of something which has been both sweet and sad to watch. i remember one time in recent months going to a friend's house to play and beck was so so excited to get out and run around with the big boys. he literally jumped out of the car and started hopping around in utter joy ready to play with the big boys and when the big boys ran off to play, leaving him behind, he just followed after totally clueless to the fact that he was being left out. he fully believed he was in on the action. it broke my heart in the most tender way. it hurts to see him being left out and so sweet and heart wrenching to see that he thought he was being included. i was relieved that at least he thought he was part of the big boy action. however, last week he figured it out. we had little buddies over and of course atticus and his buddy ran off to do big boy things and leave little brothers behind. beck tried to keep up but to no avail.
finally he came downstairs crying and said, "atticus won't play with me."
heart
torn
out
i wanted to cry too
he is the sweetest soul and of course it's so hard for me as a mom to see his little heart ache
but alas, these are the growing pains that build character
so try as i might to protect my babes from any and all heartache,
i know it's good for all of us to have a little taste now and then
sweet beck throwing sand
and kennedy
my half year old
those blue eyes
those elf ears
needless to say she owns every heart of every person she ever smiles at
she rolls and rolls hither and yon to reach whatever object she has set her sights on
and she's so close to crawling that i'm afraid if i blink i might miss the actual moment of the first crawl
she slept like a dream on the vacay which only made me love her all the more. and she just got passed from person to person, winning hearts and she went along. i don't want to jinx myself but she's definitely what the baby whisperer would categorize as an angel baby and even though i had nothing to do with that, since she just came that way, i like to pretend that i did have something to do with that and count it as a parenting success - because it's those successes that keep us going, right?
angel girl
so anywho, we had so much fun on our vacation and i'll have to blog more details this week.
it was so wonderful to see the family that we saw and the few friends were able to see
although we missed seeing so many.
i'm so grateful for this stage of life and the things that i'm learning, although i'm not going to lie - it's not easy.
but it's not supposed to be, so i hope that means that we're doing it right.
xo
.ta.